Medal of Honor Fallen Hero
Operation Iraqi Freedom / War on Terrorism

Marine Corporal Jason L. Dunham
Killed performing heroic actions on April 22, 2004 in Iraq

Marine Corporal Jason L. Dunham
(Medal of Honor Citation Issued Posthumous by President George W. Bush on January 11, 2007)

President Bush's announcement...

"... Jason's birthday is November the 10th, so you might say that he was born to be a Marine. And as far back as boot camp, his superiors spotted the quality that would mark this young American as an outstanding Marine: his willingness to put the needs of others before his own.

Corporal Dunham showed that spirit in April 2004, while leading a patrol of his Marines in an Iraqi town near the Syrian border. When a nearby Marine convoy was ambushed, Corporal Dunham led his squad to the site of the attack, where he and his men stopped a convoy of cars that were trying to make an escape.

As he moved to search one of the vehicles, an insurgent jumped out and grabbed the Corporal by the throat. The Corporal engaged the enemy in hand-to-hand combat. At one point he shouted to his fellow Marines, "No, no, no, watch his hand." Moments later, an enemy grenade rolled out. Corporal Dunham did not hesitate; he jumped on the grenade to protect his fellow Marines, he used his helmet and his body to absorb the blast.
A friend who was there that terrible day put it this way: "Corporal Dunham had a gift from God. Everyone who came in contact with him wanted to be like him. He was the toughest Marine, but the nicest guy. He would do anything for you. Corporal Dunham was the kind of person everybody wants as their best friend." Despite surviving the initial blast and being given the best of medical care, Corporal Dunham ultimately succumbed to his wounds. And by giving his own life, Corporal Dunham saved the lives of two of his men and showed the world what it means to be a Marine.

Corporal Dunham's mom and dad are with us today on what would have been this brave young man's 25th birthday. We remember that the Marine who so freely gave his life was your beloved son. (Applause.) We ask a loving God to comfort you for a loss that can never be replaced. And on this special birthday, in the company of his fellow Marines, I'm proud to announce that our nation will recognize Corporal Jason Dunham's action with America's highest decoration for valor, the Medal of Honor. (Applause.)

As long as we have Marines like Corporal Dunham, America will never fear for her liberty."
Corporal Jason Dunham's heroic story...
Marines honor corporal's heroic sacrifice
By Sgt. Jose L. Garcia, 1st Marine Division

CAMP AL QAIM, Iraq (April 29, 2004) – A 22-year-old corporal from Scio, N.Y., lived up to the Corps' largest legends and laid down his life to save his Marines.

Cpl. Jason L. Dunham, a rifle squad leader for Company K, 3rd Battalion, 7th Marines, was memorialized by his battalion here as a crowd of more than 500 Marines, sailors and soldiers paid final respects under a dark and cloudy sky.

Dunham died April 22, eight days after using his helmet and his body to smother an exploding grenade let loose by an insurgent.

"His was a selfless act of courage to save his fellow Marines," said Sgt. Maj. Daniel A. Huff, battalion sergeant major. "This generation of Marines is as good as any generation we've ever had in the Corps."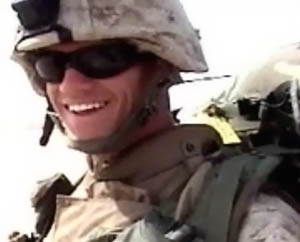 Dunham was patrolling with his squad in an alley near the Syrian border April 14 when a man lunged at him from a parked vehicle.
As two other Marines assisted Dunham, the insurgent dropped an armed hand grenade. Dunham covered the blast and saved the lives of his Marines. All three Marines were wounded, but all three might have died had Dunham not dampened the blast.

"He new what he was doing," said Lance Cpl. Jason A. Sanders, 21, from McAllester, Okla., who served with Dunham in Company K. "He wanted to save Marines' lives from that grenade."

Another Company K Marine, Lance Cpl. Mark E. Dean, 22, from Owasso, Okla., described Dunham as an unselfish Marine. Dunham's enlistment would have ended months before the battalion is expected to rotate back to Twentynine Palms, Ca., but he voluntarily extended his contract to stay with his Marines.
"We told him he was crazy for coming out here," Dean explained. "He decided to come out here and fight with us. All he wanted was to make sure his boys made it back home."

"The only way to honor him is in his own way," said Capt. Trent A. Gibson, commanding officer for Company K. "We must continue to do our duty, take care of our Marines, lead by example and take the fight to the enemy."

Dunham was born Nov. 10, 1981 and joined the Marine Corps on a delayed-entry program during his high school senior year.

He graduated high school and entered the Marine Corps July 31, 2000. He completed recruit training at Marine Corps Recruit Depot Parris Island, S.C. He joined 3/7 in September 2003.

Huff said leaders in the battalion are investigating and awaiting eyewitness statements from Marines to determine how they will recognize Dunham's actions.

"What Cpl. Dunham did equates to what a lot of heroes of our past have done to earn the nation's highest honor," explained Sgt. Maj. Wayne R. Bell, 1st Marine Division's sergeant major. "If it were up to me, he'd be put in for the Medal of Honor. From bits and pieces of what I'm hearing, it very well could be. He'll be in the history books, like many of our Marines here."

Dunham survived for eight days and returned to the U.S. He expired with his parents by his hospital bed shortly after Commandant of the Marine Corps Gen. Michael W. Hagee presented Dunham with the Purple Heart.

"God made something special when he made Jason," Dean said, "It was a privilege and honor to know him. It's sad he is gone, but he is living it up in heaven and I'm happy for that."

**************

Semper Fi . . . Corporal Jason Dunham

You will always be remembered for your duty, bravery, and ultimate sacrifice!


Parents Deb and Dan Dunham look at press clippings in town's
library room dedicated to their son in Scio, NY and below vist his grave
.