USS Sampson and USS Chafee Depart Pearl Harbor
July 13, 2022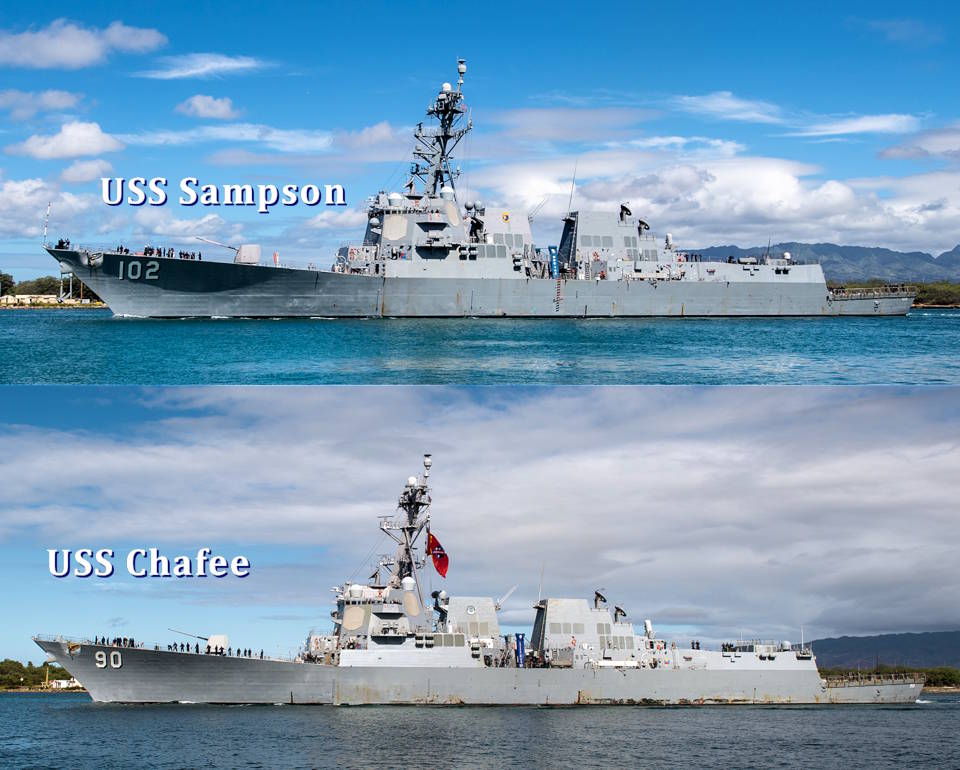 July 12, 2022 – Arleigh Burke-class guided-missile destroyers USS Sampson (DDG 102) and USS Chafee (DDG 90) depart Pearl Harbor to begin the at-sea phase of Rim of the Pacific (RIMPAC) 2022.
Twenty-six nations, 38 ships, four submarines, more than 170 aircraft and 25,000 personnel are participating in RIMPAC 2022 from June 29 to August 4 in and around the Hawaiian Islands and Southern California.
The world's largest international maritime exercise, RIMPAC provides a unique training opportunity while fostering and sustaining cooperative relationships among participants critical to ensuring the safety of sea lanes and security on the world's oceans. RIMPAC 2022 is the 28th exercise in the series that began in 1971.
Image created by USA Patriotism! from U.S. Navy photos by MC1 Melissa K. Russell and MC2 Class Aiko Bongolan.
U.S. Navy Gifts | U.S. Navy | U.S. Department of Defense
Americans | We The People | America's Destiny | Give Thanks | Love and Pride of USA | National Will
God and Country | One Nation Under God | America's Symbol | Old Glory | Hooray USA! | America, My Home!