Scramble The Seawolves
December 17, 2019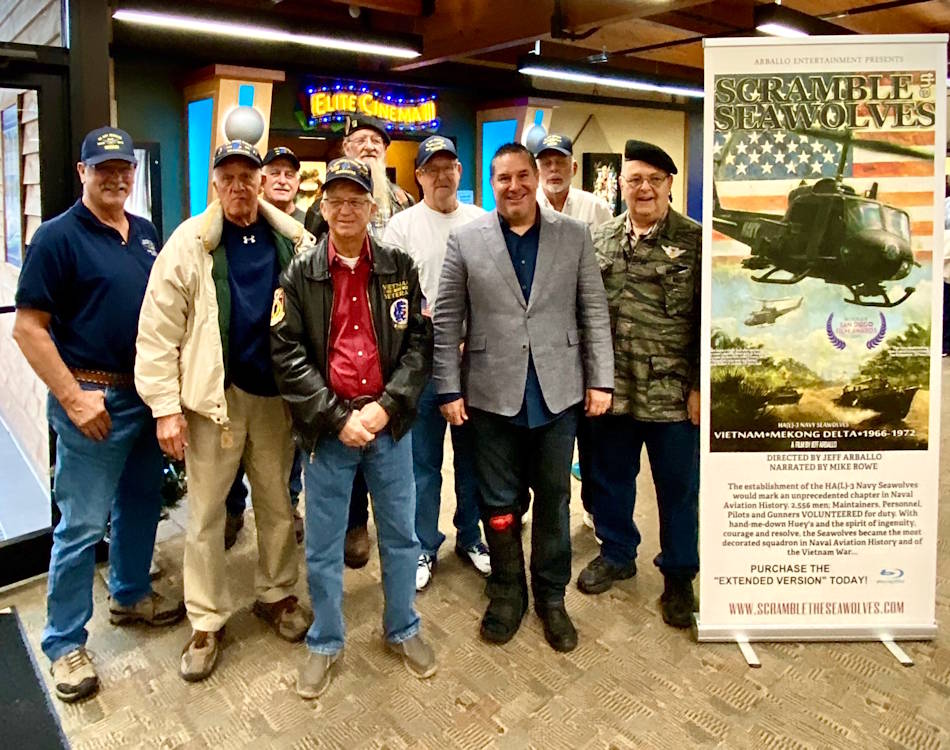 Larger Image
Jeff Arballo (gray coat), producer of the must see documentary, Scramble The Seawolves, proudly stands with Vietnam War veteran Seawolves, who are in the film that was shown at the Branson IMAX Military Film Festival on November 6, 2019. (Image created by USA Patriotism! from photo provided by Jeff Arballo)
The story...
Scramble The Seawolves is the little known story of the U.S. Navy's first and only dedicated Attack Helicopter Squadron. Established in 1967 in support of Game Warden Operations in the Mekong Delta, South Vietnam. The establishment of the Helicopter Attack (LIGHT) Squadron THREE Seawolves, also known as HA(L)-3, would mark an unprecedented chapter in Naval Aviation History.
Approximately 2,556 men; Maintainers, Pilots, Gunners and Support Personnel VOLUNTEERED for duty. With hand-me-down huey's and the spirit of ingenuity, courage and resolve, the Seawolves would become the MOST decorated Squadron in Naval Aviation History and of the Vietnam War.
Fifty years later, their story is available for all to witness.
Scramble The Seawolves trailer
Fellow Americans, including younger generations, need to see Scramble The Seawolves ... as these warriors ... heroically underscore ... beyond self ... that is rooted deeply in service to country ... since the American Revolutionary War.
David Bancroft
Founder/Owner
USA Patriotism!
Branson > Photos, Videos, and Stories about Veterans Week and More at Branson, Missouri | In The Heart Of America
Vietnam War Veterans | Veterans | Citizens Like Us | Our Valiant Troops | Americans | We The People | Our Heroes, America's Best
Honoring The Fallen | Don't Weep For Me | Remember The Fallen | Tears For Your Fallen | Our Wounded