Brian Nichols was approaching the end of his junior year of high school and wasn't sure what to do with his life.

One morning in school, it was announced that military recruiters had an open invitation for the Armed Services Vocational Aptitude Battery (ASVAB) test at his school and anyone taking it would get out of the second and third period classes.

Nichols figured if he sped through the test he could avoid classes and enjoy an extended lunch. He had no idea how that decision would drastically change his life.
The Navy recruiter called to follow up and persuaded him to come to the recruiting office for an interview.

"I scored 60 on the ASVAB but I had no interest in joining because my father was in the military and he was hard on me at that age because I was a rebellious teen," said Nichols.

Spurred by 'encouragement' from the recruiter, Nichols eventually saw the military as an opportunity to get a degree or credentialing in the medical field; influenced by his mother who was a nurse.

To attain this goal, he enlisted in the Navy as a hospital corpsman with the hopes of becoming an anesthesiologist.
However, shortly after beginning medical corpsman school he realized that the medical field was not for him. He wanted to shape his own career.

"I elected to drop my rate and was offered a few different rates at the time," said Nichols. "I wasn't knowledgeable about them but I knew what an 'undesignated seaman' was because my father was a boatswain's mate in the Coast Guard, so I elected that."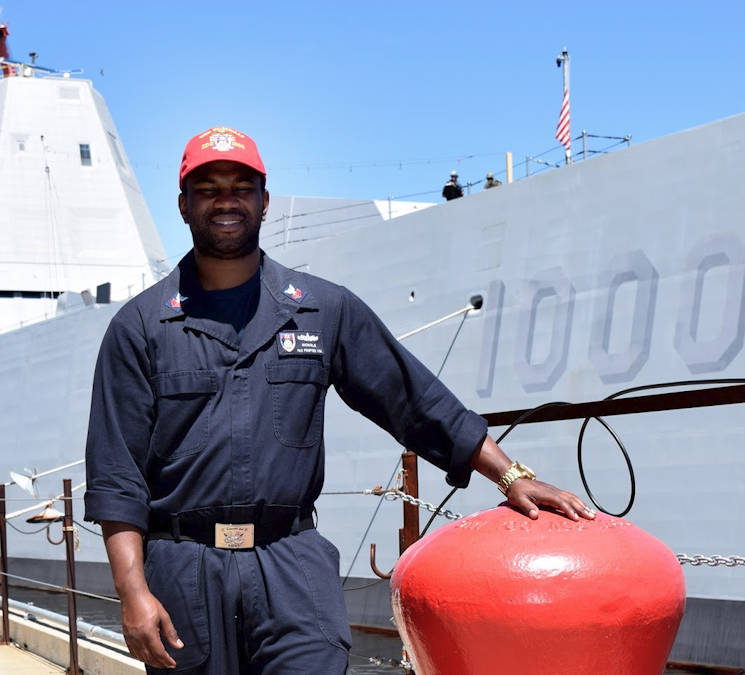 June 23, 2016 - Petty Officer 1st Class Brian Nichols is a boatswain's mate aboard the pre-commissioning guided missile destroyer, USS Zumwalt (DDG 1000), the Navy's first stealth destroyer. Nichols is being a part of the very challenging deck department on the ship is . (U.S. Navy photo by U.S. Navy Mass Communication Specialist 1st Class Heidi McCormick)
Once he got to his first ship, USS Sacramento (AOE-1), Nichols said he met with the ship's Bos'n, who seemed to be the most important man next to the captain.

"I told myself I wanted to be like that!" Nichols remembers.
On the Sacramento, his arduous apprenticeship as an undesignated seaman saw him busting up rust with heavy pneumatic needle guns, painting the ship covered in haze gray paint while dangling from pulleys, and straining to pay out and haul in heavy mooring lines.

It was unflattering work, but it brought huge rewards.

He advanced to the next two paygrades before serving aboard another ship and a shore-based duty station. A successful individual augmentee tour to Iraq followed but his progress hit a road block.

The now-revamped Navy's Perform-To-Serve (PTS) system, which ranked Sailors using computation methods, dealt Nichols an ultimatum.

He had to force-convert to a different rating or leave the Navy, so he chose to convert to an administrative job designated to submarines.

Nichols managed to successfully graduate submarine school as part of the conversion requirement, but that too fell through when he received news that he could not join the submarine fleet.

"Because I'm allergic to shellfish I was disqualified and returned to my original second class rate," he jokingly recalled.

Despite the disqualification, Nichols felt being reverted to the rating was a blessing because he had begun to enjoy his work, just like his father.

"[My] favorite part is underway replenishment (UNREP)," said Nichols. "Every time an aircraft carrier received JP-5 [fuel] for jets or 500 pound bunker-busters, we were completing the mission to keep those ships continuously out in the battle."

Claiming UNREP as his "bread and butter," Nichols explained why it is vital to surface vessels and the Navy as a whole.

"Without that underway replenishment you won't have ammunition or fuel, and you would not be able to launch those aircraft off that carrier," said Nichols.

Food, dry goods and mail are also critical for Sailors, Nichols explained.
Now a leading petty officer, Nichols attributes his maturity level and his success to his father's guidance and rigorous discipline.

"As a kid I was a bit of a trouble maker," recalls Nichols. "I got into trouble a couple of times and my father handled those situations like I was a criminal. I was punished sternly."

It was only until he got to boot camp and "had to fold my clothes a certain way, clean up after myself and make up my rack every day that a light bulb turned on that indicated that everything that he had done had geared me for a regimented lifestyle."

Now with two sons Christian, 12, and Kingston, 8, who live in California with their mom, the tables have turned.

"I'm gone a lot unfortunately but Facetime, Skype and voice chat, have bridged a huge gap, making it easier to check up on them to make sure that school is going well and that they are doing the right thing," said Nichols.

Nichols maximizes the time he spends with his sons by doing fun activities while introducing them to his work.

"They enjoy spending time with me and getting to see the cool things I get to work with and how big the ships really are compared to how they look on television," said Nichols. "They really enjoy it."

Now stationed aboard the massively imposing pre-commissioning unit (PCU) Zumwalt (DDG 1000), the Navy's first stealth destroyer, Nichols said that being a part of deck department on the ship is very challenging.

"Typically on a destroyer, you're operating with anywhere from 17 and 23 Sailors, we do the exact same job on a larger vessel operating the same systems at the same tempo as an Arleigh Burke-class destroyer with only five of us," said Nichols.

Nichols's ability to operate at peak levels stem from a family legacy that stretches across different military branches from different eras.

His grandfather served during WWII as a fireman aboard a battleship and his mother served in Army, while his uncle served in the Air Force as a pilot. He currently has a cousin who serves in the Navy aboard a submarine.

"I'm very proud that I too get the honor to serve like the men and women before me in my family," said Nichols. "Service to country is the best thing that I could have ever done. The sense of pride and self-worth that I have being able to serve America as a whole is unmatched."
By U.S. Navy Petty Officer 2nd Class Danian Douglas
Provided through DVIDS
Copyright 2017