Imagine going into war abroad coming under a hail of enemy fire to fight against fascism in Europe and returning home to battle for your own democratic freedoms. This was the reality for Col. Charles McGee and other minorities during World War II.
In 1942 McGee joined the Army and signed up for a pilot slot in an experimental program located at Tuskegee Army Airfield, which allowed African-Americans to train to become airmen for the first time in U.S. history.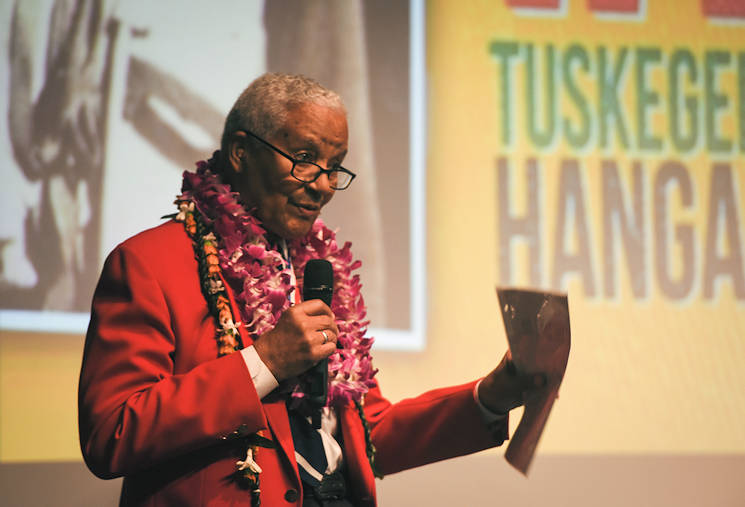 February 3, 2017 - Retired U.S. Air Force Col. Charles McGee stands in the Pacific Aviation Museum, Ford Island, Hawaii. McGee, a Tuskegee Airman, who served as a pilot during World War II, the Korean War and Vietnam War, gave a presentation at the Pacific Aviation Museum geared towards youth entitled, "In His Own Words." (Department of Defense photo by U.S. Navy Petty Officer 2nd Class Aiyana S. Paschal)
"Well, at the time I hadn't thought about it like oh we'll go down Tuskegee and set the world on fire. It was just a matter of being able to participate and certainly, for me, it was a joy to be on the flying side of things," said McGee. I enjoyed doing that and that's what I'd like to pass on. I think it's every citizen's right and certainly a responsibility to serve the country in one way or another, and I think going forward that helps preserve the freedoms we so much enjoy."
Prior to World War II minorities were only allowed to perform service type jobs. McGee recalls a 1925 Army War College Report titled "The Use of Negro Manpower in War", which made assumptions about African Americans capacity to serve in the military.
'The Negro is by nature subservient and believes himself to be inferior to the white man. He is most susceptible to the influence of crowd psychology," said McGee. 'He cannot control himself in the face of danger to the extent the white man can. He has not the initiative and resourcefulness of the white man. He is mentally inferior to the white man', McGee said. "This report said because of physical qualification and of course that meant service you know dig ditches, cook food, drive trucks, but doing anything technical impossible."
McGee Graduated flight school on June 30, 1943, and was assigned to an all-black squadron called 332nd Fighter Group in Naples, Italy. Although the men and women of the squadron landed their shot at serving as airmen, they were still segregated from their white counterparts and as McGee described "treated like second-class citizens".
"Well, the challenge pretty much at the time was being accepted based on our ability and so on rather than the fact that there were those who felt we didn't have the brain power or the fortitude to participate in a successful way," said McGee
However, McGee and his unit quickly gained notoriety through their successful long-range bomber escort missions. Their flawless execution of their mission earned them the respect from the white bomber crews and made them a formidable adversary to the German Luftwaffe pilots. By the end of 1944, McGee had 137 combat missions under his belt.
"Fortunately once given the opportunity we were able to disprove that because it's all about first, having an education and developing a talent and found out we could perform successfully," said McGee.
Charles McGee and the 332nd's commitment to service did not go unnoticed by the nation. In 1947 the Army Air Corps started abandoning its policies that promoted segregation. One year later President Harry Truman signed an executive order to abolish racial discrimination in the United States Armed Forces.
"Well, I didn't realize that was happening when I got the opportunity to serve but realized what it meant because the experience gave the air force the background to make a decision that affected all of our services and affected the country," said McGee. I was just glad to serve and doubly glad that it turned out to be that important even though that wasn't a goal for my reason of serving at the time."
McGee is committed to passing down the first-hand experience of history to future generations so that they may never forget the lessons learned.
"I enjoy talking to students and enjoy getting their questions and answers because I realize the value of the lessons that sustained us if you will through those periods that we don't want to be repeated in many ways are still important for their growing up and taking part in the future of our country," said McGee. So it's always a pleasure to talk to students and hopefully get them to realize that they are the future of their country and so their attitudes are all very important."
As a result of Charles McGee and other trailblazers like him, more than one million African-Americans served in World War II. He has a total of 409 aerial combat missions flown, which is the highest Air Force record. Today, the United States Armed Forces continues to strive for diversity by opening opportunities for more citizens to serve.
By U.S. Navy Petty Officer 2nd Class Jerome Johnson
Defense Media Activity
Provided through DVIDS
Copyright 2017