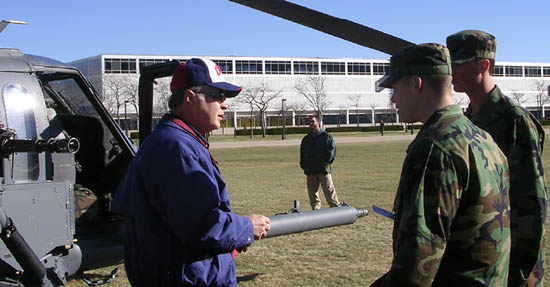 We were then escorted onto the Terrazzo / Honor Court where the 3,000 plus cadets were in noon meal formation waiting for their march to Mitchell Hall, which is one of the largest mass dining facilities in the world.
During this period, I was able to spend some time talking with cadets, recruits, officers, and enlisted men. It was easy to see the pride in each of these airmen's eyes as I thanked them for their brave service to our country and asking them to pass on my best wishes to their fellow airmen.
My grandson really enjoyed this time at the USAFA, as he was able to experience sitting in two helicopters, an attack one and a troop carrying one.
The look on his face in the photograph to the right is the best description of how much fun he was having . . . Give a boy a chance to have his hands on a gun similar to what his uncle manned while in Iraq says it all!
Shortly afterwards, the cadets (standing in their noon meal formation) and all visitors were treated with several parachutists landing on the grassy part of the Terrazzo. The cadets cheered each parachutist as they touched the ground in an attempt to hit their mark.
Again, my grandson was thrilled seeing the parachutists coming down with trailing colors of smoke . . . and commented excitedly about it. (His grandparents and the other visitors were delighted, as well.)
In fact, the visit to the USAFA took on a new perspective when I noticed how much my grandson was enjoying all that he was seeing. He was very enthusiastic and never complained about any aspect of the tour.
He especially liked seeing the cadets marching in formation to Mitchell Hall, where we were able to witness them in a less formal atmosphere . . . eating and talking at their respective group table. (Lunch actually began after the Commandant of Cadets, Brig. Gen. Susan Desjardins, gave these future officers an inspiring brief speech, which included a reference to the USAFA football team's next game.)
There is so much that a special visit to USAFA allows one to see that is not available through the self-guided tour including us being able to visit a special area of the McDermott Library, where we were privileged to see valuable historical papers associated with the Air Force and more. I also had the opportunity to chat with several "studying" cadets at the library.
My grandson even chose for us to see the boa constrictor that was confiscated from a cadet a few years ago. Now, this side trip did cost me an opportunity to see the technology area, but the visit had already become what my grandson wanted to see. We then took another stroll on the Terrazzo taking the time to look at the various statues and the War Memorial to USAFA graduates who made the ultimate sacrifice for our great country and their fellow citizens.
Then, my grandson's bottomless pit grumbled, reminding us all that we hadn't had lunch yet. And while this unplanned interruption took 30 minutes away from the tour, it did allow us to meet Lt. Colonel Savage, who is an instructor at USAFA.
(My thanks to Lt. Colonel Savage for his special talk to my grandson, too.)
Our final stop of our guided tour was again decided by our grandson and needed no encouragement from John Van Winkle, who has a noticeable interest in the falcons at the USAFA.
It was a delightful and educational visit to the mews (enclosures for trained hawks) north of the cadet area.
There are usually 10 to 15 falcons at the mews with the majority being prairie falcons, which are native to Colorado.
Cadets train both the tiercels (males) and falcons (females) to perform flying demonstrations.
Visiting the USAFA was a wonderful visual and informational experience with my only regret in not being able to spend more time speaking with the cadets . . . I would have loved to share their thoughts with fellow patriots at USA Patriotism! . . . but left it up to each one who I spoke with to do so relative to their comfort level. (Some thoughts are also best left unsaid . . . as actions can speak loudly too, like attending the USAFA and serving in the Air Force.)
And regardless of your political position and stance on any given military activity overseas, these fine young women and men of the United States Air Force and other military services represent their generation with honor and are wonderful symbols of what it means to be an American.
Moreover, I am proud to have met all those on my visit to the USAFA and look forward to doing the same at the other military academies and bases.
Of special interest is visiting Camp Pendleton where my youngest son was trained as a Marine and stationed afterwards.
Then there is officially visiting the U.S. Naval Academy, which was founded when a past relative of mine, George Bancroft (1800-1891), was Secretary of Navy. (George Bancroft also wrote the first history books about the USA and is known as the father of USA history.)
Photos not showing my grandson or me were provided by the USAFA.
David Bancroft
Founder / Owner
USA Patriotism!
Copyright 2006
Author of the books
American Pride, Cemetery Woods, Mere Chance, and Waking Dreams