Trekking the entire length of iconic Route 66 would include walking through Marine Corps Logistics Base Barstow, Calif., and that is just what one man has done.

Meredith J. Eberhart, known as the Nimblewill Nomad, or "Sunny" to his friends and acquaintances, entered the rear gate of MCLB Barstow around 7 a.m. on November 15, 2017.

Sunny said he was on a mission, another in an unending series of long-distance hikes that he began in 1998 after he retired as an optometrist.

Meredith J. "Sunny" Eberhart, waves hello to a Marine Corps police officer as he walks through the back gate of Marine Corps Logistics Base Barstow, California around 7 a.m. on November 15, 2017. Eberhart began walking the entire length of Route 66 in Chicago 112 days ago and plans to finish in Santa Monica, Calif., in nine more days. (U.S. Marine Corps photo by Keith Hayes)
Colonel Sekou Karega, commander, MCLBB, granted Sunny's request for access to traverse the base along the original Route 66, of which the base's main drag, Joseph Boll Avenue, is a part.

"I'm walking Route 66 from Chicago to Santa Monica," Sunny said. "I started in Chicago. This is day 112."

That put his total miles walked so far on this particular hike, in his words "at about 2,100 miles and change".

Sunny called his current walk a not particularly long one. The longest hike he said he participated in was a walk from Key West, Fla., to Belle Isle, Newfoundland, a 5,400 mile long journey and definitely not as the crow flies.

That legendary feat of long distance hiking was completed in 1998. The rugged and wiry Sunny, who just turned 79 years old this month, said he was a mere pup of 61 then.

When asked why he does the walking he does at the distances he undertakes, Sunny smiled and said "I used to tell folks if you're going to ask that question then you're not going to understand the answer.

"But I've managed to get the answer boiled down to just 32 words: It's the people, the places, the pain and the trials, It's the joy and the blessings that come with the miles. It's a calling going out to a fortunate few, To wander the fringes of God's hazy blue."

The inevitable comparisons do spring up between Eberhart and the fictional Forrest Gump character portrayed by Tom Hanks in the movie of the same name. They do resemble each other in the long-distance jogging and walking part of their lives; long hair, bushy beard, a baseball cap, and the sinewy muscles of a perpetual athlete. Of course, Sunny's hair is white and gray after nearly eight decades of life, and he has actually walked the miles rather than just played the part in a movie.

He acknowledges that many others have tried to make the same nonexistent connection between him and Gump, but with a nod to the popular 1994 movie Sunny said "Forrest was smart. He quit and went home. I'm still going."

The Nimblewill Nomad's next stop is the end of the road for him, or at least the end of Route 66 at the shores of the Pacific Ocean in Santa Monica, a mere 128.6 miles from Barstow.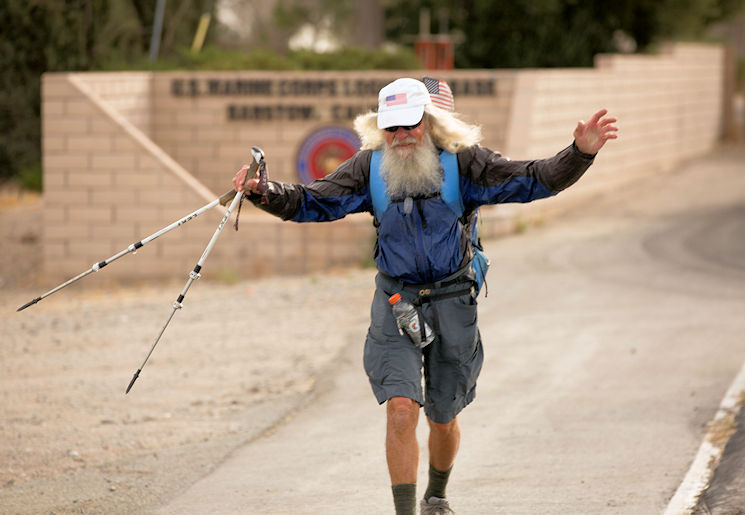 November 15, 2017 - Sunny Eberhart completes his traversing of Marine Corps Logistics Base Barstow, California as another part of his mission to walk the entirety of Route 66 from Chicago, Illinois to Santa Monica, California, a distance of 2,400 miles. Joseph Boll Avenue through the base is part of the iconic Mother Road. (U.S. Marine Corps photo by Keith Hayes)
Sunny said he has met people from every continent and nearly every country on his current odyssey and learned one thing that has made him very thankful.

"They love us, they love America. What we're being told is not true. What we hear every day about what bad people we are and we don't care, we just want to use up all the world's resources and to hell with everybody. The world loves us. People all over, from China, Europe, Asia … not a single one of them said the least negative thing about us as American people. Isn't that wonderful?"

He said his visit to MCLB has brought him some real energy.

"I've never had this kind of turnout on my hikes before," the veteran of the U.S. Coast Guard said. "People lining up on the side of the road to wish me well. Everyone here has been so nice to me, it's really given me a boost."

Sunny said he has friends in Barstow who are going to put him up for the night before he begins the last leg of his journey.
By U.S. Marine Corps Keith Hayes
Provided through DVIDS
Copyright 2018